Black Bear
Perhaps no other animal has so excited the human imagination as the black bear. Bears have fascinated many of us for centuries, with their keen senses and great survival skills which earns them the title of one of the most adaptive and versatile mammals on Earth. The black bear's behavior has the ability to stir fear, awe, wonder and curiosity within us all.
To ensure a higher quality hunt we here at Labrador Caribou Outfitters keep our hunting parties to a maximum of six to eight hunters per hunt. We welcome both archery and rifle hunters. Our hunts take place over bait, from tree stands or ground blinds which offer 15 to 35 yard shots.
Along with Labrador's unspoiled and uncrowded vastness, the hunting area that we have to offer to you contains a large number of black bear and truly a highly desirable area to hunt.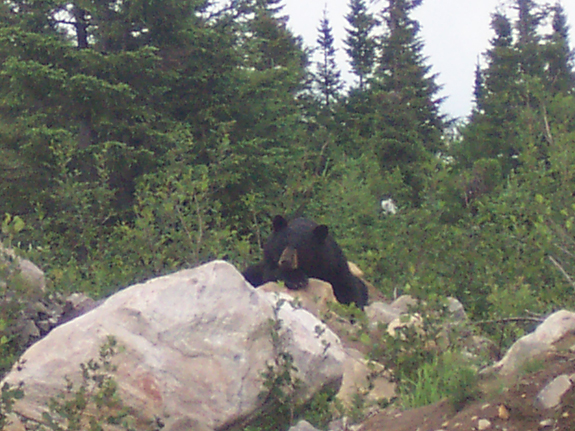 Black Bear Facts:
Labrador Black Bears are 2nd in size to the Polar Bear
Black Bears range in size up to 600 pounds
Males generally range from 200-300 lbs
Females generally range from 110-180 lbs

 

Bear sizes and weights vary widely depending on habitat quality, but with adequate availability of food, a bears weight may more than double between August and November.


Labrador is Black Bear country. Black Bear hunts are highly successful due to the lack of hunting pressure and a healthy population.Why not travel to Labrador and witness all of this for yourself?


Hunting Info:


Licenses:

Bear hunting licenses are included in the package rate. Licenses will be provided upon your arrival at the lodge

Safety Obligations:

Although hunter orange is not required by law, we highly recommend our hunters be in possession of an article of hunter orange during his or her hunt so that you can be easily identified by our guides or other hunters.

Firearms:

To hunt big game with any .22 caliber rifle or any rifle ( Including muzzle loaders) using ammo with a bullet weight of less than 100 grains or a muzzle energy less than 1,500 foot pounds.
To hunt big game with a slug from any shotgun smaller than 20 gauge.
To hunt with metal cased non expanding bullets commonly known as service rounds.

Archery:

It is unlawful:
To hunt big game with a long bow, recurve bow or compound bow and arrow unless the bow has at least 40 lbs. pull at full draw.
To hunt big game unless the hunting arrows are tipped with a metal hunting head with two or more sharpened cutting edges.

Hunting Hours:
It is unlawful:

To hunt big game earlier than one half hour before sunrise or one half hour after sunset each day.

Climate:
The weather in Central Labrador in the spring is very unpredictable. Rain is always a possibility, so hunters should come prepared for both sunshine and rain. Early season hunts which take place in late May and early June can expect colder weather and hunters should also bring appropriate cold weather as well as waterproof hunting gear.
Non - Resident Info:

Non resident hunters must be in possession of a valid Non - Resident hunting license.
He or she must also possess proof of verification of having met his / her own jurisdiction's hunter education requirements.

Special Notes:

Female bears accompanied by cubs may NOT be harvested.

Package Description/Inclusions:

License
Guide 2:1
Accommodations
Meals and Trail Lunches
If arriving by plane: Pick up at Wabush or Churchill Falls Airport
Transportation to and from hunting areas
Preparation of game to take home

Package Prices:

3 Hunting Days: $1500.00 (US Dollars)
5 Hunting Days: $2100.00 (US Dollars)
A non-refundable deposit of $500.00 (US Dollars) to be paid by March 1st of hunting year.